Why anyone would want to know anything at all about Christopher Priest is a mystery to Christopher Priest. However, since people won't stop asking for a bio of Christopher Priest, Christopher Priest has found a moment in a bizarrely busy day to hack one out off the top of Christopher Priest's head.
Christopher James Priest was born James Christopher Owsley in 1961 in Queens New York. He grew up in New York with his mother, Lillie Mae, and his sister Debra. When he was ten years old he asked his mother for a typewriter, the typical and obvious request of a ten year-old. His mom got him a Royal portable manual typewriter, which Priest proceeded to ruin by typing it to death.

Priest was a geek. He stayed in his room and wrote all day long. He lived in his own Mark Waid-style fantasy world. He was a big Legion fan. He wrote almost exclusively super-hero fiction and science fiction. He always wanted to be in comics. Not so much as a writer but as the guy who HIRED the writer. He'd later find out that guy was called an "editor."
In 1976 Priest enrolled in the New York School of Media Arts on West 49th Street in earshot of Hell's Kitchen. He was a so-so student, interested mostly in music, art, and his super-heroes. In his senior year, Priest entered the city's Executive High School Internship Program. He applied to three law firms and to Marvel Comics. He blew off all the law firm appointments, but showed up at Marvel on June 6, 1978 with a class project in hand— a comic book he wrote and drew (yes, drew).

Priest beat out three other candidates for the internship at Marvel, and started working there in the fall of 1978. He mostly made Xeroxes of Tomb of Dracula. No, almost exclusively Tomb of Dracula.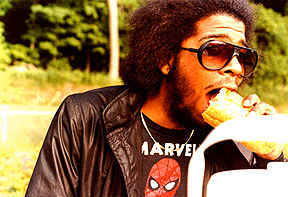 Marvel was run by some new guy named Shooter. Stan Lee actually worked in the office, and Priest benefited from many meetings and 1-on-1 bull sessions with Stan The Man (with whom he is still friendly today). John Romita Jr. was the key operator for the Xerox machine. Marie Severin was the art director. Dave Cockrum was the cover editor. Editors Al Milgrom, Dennis O'Neil, Ralf (The Waste) Macchio, Mark Gruenwald and others were his torturers, and he learned a lot from them.

His mentors included Larry Hama, who Priest worked directly for as assistant editor (first on CRAZY Magazine, and then on the CONAN books). O'Neil (Priest's drill instructor/abuser on POWER MAN & IRON FIST), Shooter (15 Drafts of the Captain America Graphic Novel), and Roger Stern, the most patient guy in comics, who allowed Priest to hover over him asking endless questions.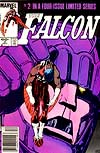 It was the greatest job in the world, a special time when the House of Ideas absolutely earned the title.

In 1984, Priest was promoted to full editor at the age of 22, becoming (as far as he knows) the first African American editor for a major U.S. comics publisher. He was put in charge of the SPIDER-MAN books because, at an editorial meeting, none of the other editors stepped forward to take them.

Also that year, Priest sold a script (one of his first) for a FALCON 1-shot, and Shooter gave it to some new kid named Paul Smith. When the pencils came back, everybody in the office fell over themselves gawking at Smith's pencils, but nobody read the story. So Smith got discovered but Priest didn't.

Priest also collaborated with another new guy, some kid named Dan Jurgens, on one of Jurgens' first jobs (an issue of DAREDEVIL). Jurgens left Priest in the dust (but at least calls every now and then).

Shooter commissioned three more FALCON stories, teamed Priest with some OTHER new guy named Mark (now M.D. or "Doc") Bright, and the two of them hammered out Priest's first published work, the FALCON LIMITED SERIES. Again, to his knowledge, Priest is the first (1983) African American published writer in mainstream comics.

After the FALCON, Jim Shooter took Priest down the hall to editor O'Neil and, literally, told O'Neil that Priest-nee-Owsley would be O'Neil's new writer on POWER MAN & IRON FIST, which Priest began with issue #111 or so and wrote until the series ended with #125. Priest was teamed with Doc Bright, and the two forged an infamous book-killing team that continues to this day.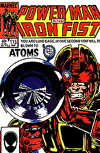 Priest and Bright have collectively spent $2.5 billion dollars on long distance charges talking on the phone. They've spent more time on the phone than two heterosexual men ever should, but they're not a couple.

Editor Larry Hama offered him CONAN THE BARBARIAN, which Priest began with issue #172 and wrote until he was fired (for reasons still unknown to him) on or about issue #213. Priest was rescued from poverty by editor Pat Reading, who offered him CONAN THE KING with issue #50. Priest wrote six issues until Marvel canceled the title (oddly, without Doc Bright's involvement) with #56.

Priest and Bright collaborated on SPIDER-MAN v. WOLVERINE #1, a smash success. Marvel has for whatever reason never done a #2, perhaps out of respect to Priest and Bright's book-killing record.

Editor Priest-nee-Owsley worked with a lot of new writers and artists, helping to start the careers of Kurt Busiek, Len Kaminsky, Peter A. David, Marc Silvestri, Kyle Baker, Mark Beachum, Joe Quesada, Adam Blaustein, Geoff Isherwood, and others.

*Office Wars (TM)* at Marvel earned Priest an exclusive writing deal which paid him more money to stay home than he was making coming into the office, and in 1987 (he thinks) Priest vanished from the Marvel offices in a swift, bloodless coup d'etat. Editor Jim Salicrup was sitting behind Priest's glass desk the very next morning (and suddenly, Ned Leeds was the Hobgoblin).

Priest continued under exclusive contract to Marvel for the next year and a half or so. Once Shooter left the company, Priest felt it just wasn't home anymore, and went non-exclusive, following his mentor O'Neil to (shudder!) DC Comics, a place that had always frightened him. He sent (then) Editor Bob Greenberger twelve pitches (including something called AVENGER, which was later cannibalized into THE RAY), and let him know that he was available for work at DC.

There O'Neil put him on the Green Lantern series in Action Comics weekly, and stupidly paired him with Bright, sealing the book's doom. Priest also wrote the 12-issue maxi series THE UNKNOWN SOLDIER, for which he was severely punished.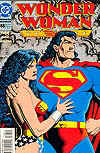 After ACW folded, O'Neil, Bright and Priest developed a new GL series for DC, but then *Office Wars (TM)* at DC ended with Andy Helfer, a longtime Priest pal, taking over the character from O'Neil. O'Neil's approach was basically Carl Sagan. Helfer's approach was basically Keith Giffen. Priest spent 13 months re-writing EMERALD DAWN #1 about twelve times and finally quit the series after he'd plotted issue #2 (the series was successfully taken over by— Keith Giffen).

Post ED, Priest quit the comics biz and, like Superman in KINGDOM COME, settled into a quiet life far, far away, driving big Greyhound-style buses for Suburban Transit in New Brunswick, New Jersey, while developing THE SPOOK, a prestige series, for Director of Development Mike Gold at DC, and for Hamm & Kitchens (the original BATMAN film) in Hollywood.

In 1990, Gold offered Priest-nee-Owsley an editorship at DC, which Priest promptly and politely declined. But Gold was persistent, and Priest had recently married and thought it was probably a good idea to get a cushy desk job so his butt could spread wider than a Volvo (which it did).

Gold ran a department at DC that intrigued Priest, the Development Group. This was where DC tried out new formats, new ideas, new lines, and it provided Priest the opportunity to stretch creatively.

Priest came to work at DC Comics in June of 1990 and began by hanging a huge poster of Malcolm X holding a machine gun over his desk. He shared an office with editor Brian Augustyn and assistant editor Kim Yale, neither of whom quite knew what to make of Priest.

Priest brought his high back leather chair from Marvel, along with an elegant desk lamp and a Macintosh computer. In those days, computers were as rare as blacks at Republican conventions, and there was some anxiety about the new guy with the nice chair and the computer.

DC Executive Vice President and Publisher Paul Levitz seemed to enjoy the new nutty editor, and spent a lot of after-hours time with Priest talking philosophy, politics, comics, and ways to make the market more inclusive of women and minorities. Levitz and Priest enjoy a friendship that endures in spite of Priest's repeated online jabs at the company.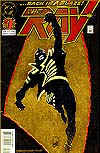 At DC Priest inherited some new stories written by DC veteran Jack C. Harris, and became convinced Harris would be perfect for a re-vamp of THE RAY, a project Priest had mentioned to Gold he wanted to get going. Priest put THE RAY on reserve and called Harris in.

Priest handed Harris a list of available characters and asked him which one he'd want to work on. Harris immediately chose THE RAY, and the project began. Priest pitched his AVENGER idea to Harris, and Harris pitched his own concepts to Priest. The amalgam of ideas created the RAY miniseries, drawn by new guy Joe Quesada. It has also contributed to ongoing controversy of Who Created The Ray and Priest Stole The Ray From Harris, etc., all of which was distorted by media accounts and office politics and all of which Priest deeply regrets.

Priest worked in the Development Group, working on THE RAY, THE QUESTION QUARTERLY, ARION THE IMMORTAL, SPELLJAMMER, DRAGONLANCE, and developing CLAW THE UNCONQUERED, a martial arts book he can't remember, and several other projects (mostly in new formats) that never made it to print. Priest eventually was put in charge of the IMPACT line of comics for younger readers (and PLEASE don't put that silly exclamation point in place of the "I"). He moved into his own office across the hall from the eerie chain-smokers at VERTIGO, including a calcified Tom Peyer who wandered the halls aimlessly, frightening Priest.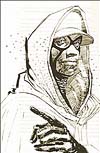 About the same time, artist Denys Cowan approached Priest to help him develop a new line of comics targeted to an ethnic plurality. Priest joined creators Dwayne McDuffie, Michael Davis and Derek T. Dingle in developing what would eventually be the MILESTONE comics line. At contract time, Priest withdrew from the project for personal reasons, and remained on staff at DC as MILESTONE's in-house liaison.

With the eventual commercial failure of the IMPACT line, and his detachment from the MILESTONE line, Priest began to look in other creative directions. His marriage was going down the tubes, so he decided to go freelance in an effort to spend more time at home with his wife. DC offered him a new RAY series, this time as writer, and a book-to-be-named-later, and Priest went home to New Jersey and his (now ex-wife) where he wrote THE RAY and developed XERO, an original creator-owned series, for DC.

It was about this time Jim Owsley became Christopher Priest. He never discusses the true reasons behind his name change, but insists every story you may have heard about it is absolutely true.

In 1993 Priest had lunch with Editor In Chief Bob Layton of Valiant Comics and let Bob, a friend of 15 years by that point, know that he was available to work for Valiant. Bob asked Priest to write up a few sample scripts on spec, and he'd see. Bob did pick up the check, however.

A few months later, Layton's executive editor offered Priest three issues of SOLAR: MAN OF THE ATOM, and asked Priest to shake up the stagnant book by mucking with the status quo. Together, Priest and the exec developed an ambitious, complex 3-issue arc designed to throw regular SOLAR readers for a loop, and position Priest for possible regular scribe duty if negotiations with Dan Jurgens became unproductive.

The approved story was then given to the SOLAR editor, who apparently wasn't included in much of the earlier discussion and didn't understand at all the origins the bizarre 3-issue script on her desk.

Priest subsequently moved to Pennsylvania, where he busied himself on JUSTICE LEAGUE TASK FORCE (#18-36) and the RAY (#1-28) series. It was there he received a phone call from the SOLAR editor informing him that, because of a scheduling snafu and the upcoming Birthquake event, Priest's 3-issue arc had to be condensed into 2 issues. She allayed Priest's concerns about the work involved by cheerfully telling him she'd already re-written the two end chapters into one story and it was already being drawn.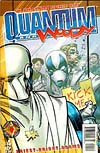 The resultant mess was one of the most loathed stories in the SOLAR series. Adding insult to injury, Priest discovered Valiant staffers had Xeroxes of his pages taped to their doors, mocking the work and the writer. The Internet filled up with anti-Priest posts. The door to Valiant slammed shut.

Priest later moved to Colorado Springs, where he lives as he writes these words. Soon after his arrival, Fabian Nicieza called him to invite him to pitch material to the New Valiant, something Priest was quite less than enthused about doing. But Mark Waid, Brian Augustyn, and the eerie Tom Peyer all said Fabian (who was once Priest's whipping boy at Marvel) was Mr. Okay Guy.

Fabe wanted a buddy book for his new Acclaim comics line, so Priest called his Power/Fist collaborator Bright who at first declined because of their book-killing track record (and his commitment to Milestone's ICON). But Priest persisted, and Bright came up with a buddy concept that later became the currently shipping QUANTUM & WOODY.

Currently, Priest lives in the shadow of Cheyenne Mountain, writing QUANTUM & WOODY, SOLAR: HELL ON EARTH (Fabian's olive branch for Priest's earlier Solar debacle), XERO (the best book that nobody is reading) and STEEL (with Denys Cowan). He is developing LEGEND OF THE BLACK LION for Acclaim, touring off-and-on in support of QUANTUM & WOODY, and in general not spending nearly as much time chasing women as he pretends to.

He still talks to Bright too much.
Christopher Priest
August, 1997
Priest's adventures in the comics trade continue in:

Adventures In The Funnybook Game


Oswald: Why I Never Discuss Spider-Man


The Last Time Priest Discussed Racism In Comics


Milestone: Finally I Was There


The Priest Curse


Paycheck Comics


Citizen Trane


Good Morning, Mr. Chips


The Last Time Priest Discussed The Viability of Black Characters


Whatever Happened To Quantum & Woody?


Black Panther Series Commentary


The Death of The Black Panther


The Self-Fulfilling Prophecy of The Crew